Welcome to RWM Inc.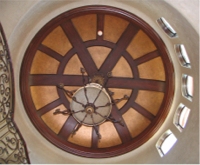 RWM Inc. specializes in custom architectural designs and building products for homes, hotels and casinos, theatres, restaurants, churches and temples, courthouses, business offices, etc.
Our products include round & oval ceiling domes, wall niches, kitchen / range hoods, fireplace fronts & mantels, interior & exterior columns, custom radius crown & mouldings, and ceiling & wall décor (corbels, decorative mirrors, medallions). From cast to cure, we handle all types of special moulds and projects.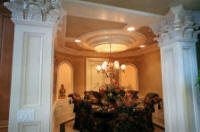 Our artisans rely primarily on our special Glass Fiber Reinforced Gypsum (GFRG) formulation to create our moulds. GFRG is extremely durable, strong (and crack resistant), light, 100% NONCOMBUSTIBLE, versatile, inexpensive, and environmentally safe and friendly.
Our customers include large-scale commercial contractors, home owners, and business executives. We pride ourselves in listening to, and in working carefully with, each customer.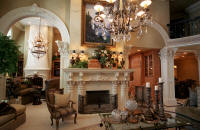 In addition to products featured on our website, our visionary artisans and craftsmen can build custom molds to suit unique goals and specifications.
All our GFRG products are made in the U.S.A. by skilled American craftsmen.
Email us for a free estimate or call toll free 1.855.RWM.ARTS (1-855-796-2787).
Add depth and character with our dramatic, celebrated, and elegant ceiling domes.
We create oval and round domes as large (30+ feet) and as deep or shallow as you need them to be, and as simple or ornate as you desire.
We offer standard and custom light coves, casings / trims, cast-in coffered panels, domes within domes, etc. We offer classic and contemporary styles.
Many of our domes can be cast in our GFRG Limestone Cast (various colors), with light cove grout joints.
Learn more or e-mail us for a free estimate.
Compliment your kitchen range with a customized, functional, noncombustible range hood. From New Age to European, we can make your vision a reality.
Our designs can include artistic corbels and backer legs, spacious canopies, and exquisite crest appliqué. Made of Glass Fiber Reinforced Gypsum (GFRG), our range hoods are 100% NONCOMBUSTIBLE.
Learn more or e-mail us for a free estimate.
Have special statuary or object to display? Our wall niches range from extravagant to contemporary.
If you have a special wall niche design or size in mind, we create custom wall niches as wide, deep, and as tall as you need.
We can also fit our wall niches to your radius wall, and add various ornamentation, grout joints, etc.
Light cove casings (i.e. casings that accept rope light) are available for most models.
Learn more or e-mail us for a free estimate.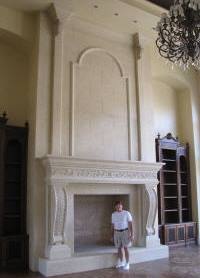 Custom Fireplace Fronts & Mantels
From Castilian to contemporary, Gregorian to gorgeous, our fireplaces can replicate centuries old designs or contemporary tastes. We can bring your favorite theme to life.
We offer HUNDREDS of customizable designs, and build to your custom specifications and needs.
Our fireplaces are 100% NONCOMBUSTIBLE, safe, lightweight, and less expensive than other materials.
Learn more or e-mail us for a free estimate.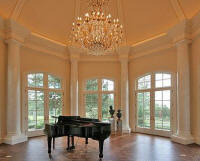 Interior & Exterior Columns
We specialize in larger custom interior columns, including doric, straight shaft, paint brush, and fluted columns — with or without bases and capitols.
We also call on third party column providers if your project requires it.
Learn more or e-mail us for a free estimate.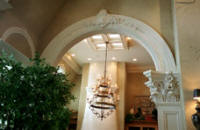 Crown & Radius Mouldings
Round, elliptical, or eyebrow moulding transform ordinary windows, doors, or passage ways to complete your environment.
Depending upon the size, and particularly if you have a radius, our mouldings can be significantly less expensive than wood and can to fit the contours required. Also, unlike synthetic mouldings, our mouldings are not susceptible to temperature changes.
Learn more or e-mail us for a free estimate.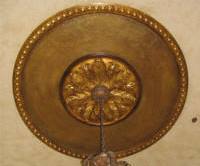 Medallions, Accent Rings & Rosettes
In addition to oval, round, and surface mount ceiling domes, we create ceiling medallions, accent rings, and rosettes.
Our medallions and rosettes stand alone or make perfect additions to ceiling domes.
We also call on third party medallion providers if your project requires it.
Learn more or e-mail us for a free estimate.
We offer a complementary line of decorative corbels and keystones.
Our corbels are often utilized as part of backer legs for custom range hoods and fireplaces.
We also call on third party corbel providers if your project requires it.
Learn more or e-mail us for a free estimate.
As our custom schedules permit, we can match and manufacture older-style mouldings. This centuries-old door from Europe was one of our many exciting projects.
Learn more or e-mail us for a free estimate.
Advantages of Glass Fiber Reinforced Gypsum (GFRG or GRG)
Gypsum is a natural mineral mined throughout the world. Our specially-formulated Glass Fiber Reinforced Gypsum (GFRG) is comprised of a mixture of raw gypsum and cement, laminated to layers of long strand, continuous glass fiber matting. See our "Why Gypsum?" page, which includes a detailed spec sheet.
GFRG offers the following unique pricing, aesthetic, health, and safety advantages:
* A fraction of the cost of other materials.
* Stunning finish options, including limestone, metallic, marble, and alabaster. It can even be finished with water- or oil-based paints, stain, and gold-leaf.
* 100% NONCOMBUSTIBLE (it will NOT burn, unlike polyurethane and wood products), non-toxic, non-allergenic, and environmentally-friendly, making it ideal for fireplaces, range hoods, and mantles.
* Paint-grade finish (i.e. ready to lightly sand, and apply primer and finish coats).
* Increased design versatility over wood.
* Superior strength and durability (tensile, yield, flexural).
* Crack and shrink resistant (unlike solid and pre-cast stone or wood products).
* Lightweight, requiring little or no additional structural support.
* Easy installation and repair, including little preparation prior to final finish.
or call toll free
1.855.RWM.ARTS
(1-855-796-2787)
We Also Sell to the Public
In addition to selling to builders, contractors, designers, architects, and other businesses, we sell to the general public in the following states: Alabama, Alaska, Arizona, Arkansas, California, Colorado, Connecticut, Delaware, Florida, Georgia, Hawaii, Idaho, Illinois, Indiana, Iowa, Kansas, Kentucky, Louisiana, Maine, Maryland, Massachusetts, Michigan, Minnesota, Mississippi, Missouri, Montana, Nebraska, Nevada, New Hampshire, New Jersey, New Mexico, New York, North Carolina, North Dakota, Ohio, Oklahoma, Oregon, Pennsylvania, Rhode Island, South Carolina, South Dakota, Tennessee, Texas, Utah, Vermont, Virginia, Washington, West Virginia, Wisconsin, Wyoming.
Note: We are required to charge Utah residents 7.05% sales tax on all orders. Alaska, Hawaii, and Canada residents need to call us for additional shipping charges before placing their order.
or call toll free
1.855.RWM.ARTS
(1-855-796-2787)
© Copyright 2017