About Us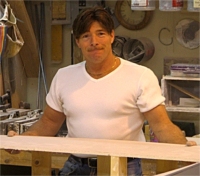 Danny Litson
Designer & President


The founder of RWM Inc., Danny regularly astounds customers with his ability to make their dreams a reality. See

Danny's Bio

.




RWM Inc. specializes in world class custom architectural design work for homes, hotels and casinos, theatres, restaurants, churches, courthouses, offices, and other structures.

Our highly-skilled American artisans and craftsmen have been creating architectural and decorative works of art since 1980.

Danny Litson, president and designer, is a delight to work with, and enjoys helping customers design and create products that meet their unique needs and desires.

Centered in Murray (just outside of Salt Lake City), Utah, RWM Inc. is a private corporation, with a broad range of customers, including large-scale contractors, home owners, and business executives. We pride ourselves in listening to, and in working carefully with, each customer.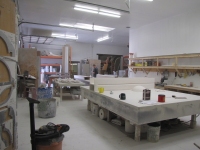 Our moulds and products include standard and custom ceiling domes, wall niches, range hoods, fireplace fronts & mantels, columns, crown and radius mouldings and cove, medallions & rosettes , corbels & keystones, and all types of special projects, including restoration.
Our artisans rely primarily on our special Glass Fiber Reinforced Gypsum (GFRG or GRG) formulation to create our moulds. Our GFRG is 100% NONCOMBUSTIBLE (unlike polyurethane and wood), lightweight, extremely durable, crack/shrink/insect resistant, and environmentally safe and friendly.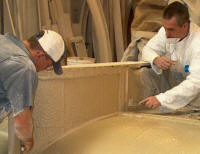 All our GFRG products are made (not just "assembled") in the U.S.A. by skilled American craftsmen.
Our management team offers over 150 years of collective experience and creativity. Our work has been featured in hundreds of home shows.
In addition to custom work in many prestigious homes throughout the U.S., the following is a small sampling of commercial projects we have supplied:
* LDS ("Mormon") temples, including Las Vegas, New York City (Manhattan), Paris, and Salt Lake City (columns, column capitals, detail, pilasters, replica moulds, etc.).
* Lucien's Manor in Berlin, NJ (16' dome and light coves, large surface domes, and accent rings) in 2016 and 2017.
* University of Texas at Tyler (14' diameter ceiling dome and light cove) in 2016.
* Temple Beth Am in Jupiter, FL (12' diameter ceiling dome and light cove) in 2016.
* The Respect Institute in Bethlehem, PA (large ceiling domes and light coves) in 2013.
* Museum of Modern Art in New York, NY (large wall niche) in 2011.
* UPMC Shadyside Hospital in Pittsburgh, PA (large oval dome and light cove) in 2011.
* Cathedral of St. Mary in Cheyenne, WY (large Gothic-style wall niches, casings, and seats) in 2010.
* Little America Hotel in Salt Lake City, UT (ballroom domes and casings) in 2009.
* Cleveland Museum of Art in Cleveland, OH (wall niches) in 2009.
* Bar Yohai Sephardic Minyan (Jewish Orthodox synagogue) in Sunnyvale, CA (8' dome and light cove and surface mount dome) in 2009.
* Mellow Mushroom Restaurant in Centennial, CO (large mushroom-shaped domes) in 2009.
* Robert Hall Winery in Paso Robles, CA (library oval ceiling dome) in 2007.
* Utah Capitol senate/house chambers (mould building and restoration) in 2005 and 1986.
* Salt Lake City government building restoration project (finials, detail, plaster, etc.) in 1982.
* ZCMI Mall in Salt Lake City, UT (large columns).
* Fashion Place Mall in Murray, UT (large columns).
* Utah governor's mansion in Salt Lake City, UT (extensive restoration after a devastating fire) in 1993.
* O'Shea's Casino in Las Vegas, NV (large mouldings).
* El Dorado Casino in Reno, NV (28' diameter dome and light cove, columns, reflector cove).
* Delta Airlines Terminal in Portland, OR (wall panels and columns).
Feel free to read some of our Customer Compliments.
Management Team
Daniel Newby
Customer Relations

Daniel has been a friendly voice for customers since 2005. He's here to help you with any aspect of your project.

Richard Westergard
Shop Foreman

Rick, the sergeant major of our efficient shop, has a pulse on every aspect of our work. He's been with RWM Inc. since 1994.

Ronald Litson
Master Mould Builder

Ron has been creating moulds since 1982. Every mould must pass his critical inspection. We rely upon his innovation and wisdom for complex custom projects.

Russell Litson
Crating & Install Manager

Russ' team receives frequent, high compliments on the quality of their crates and installations. He has an eye for detail, is great under pressure, and has been with RWM Inc. since 1996.
Our Building

Come visit our workshop!
RWM Inc.
6419 South Cottonwood Street (300 West)
Murray, Utah 84107
Normal hours: Mon-Fri, 9am-5pm MST
or call toll free
1.855.RWM.ARTS
(1-855-796-2787)
© Copyright 2017