Danny Litson Bio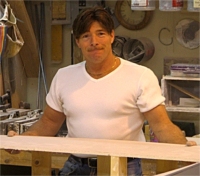 Danny Litson
Designer & President

Danny continued in his family's long tradition of craftsmen, designing jewelry and lapidary in his grandfather's Utah jewelry shop in 1965.

By 1969, he was teaching jewelry classes at Granite night schools in Salt Lake County. During this period, he discovered plastering and drywall, which he increasingly pursued until starting his own business in 1970.

By 1980, Danny was designing custom mouldings for homes using plaster, metal framing, and drywall. He could not find the materials and quality he needed for his upper-end market and began investigating what, at that time, were new and exciting possibilities using Glass Fiber Reinforced Gypsum (GFRG or GRG).

In 1982, Danny had developed his ideas sufficiently to give up his drywall and interiors company and concentrate on serious GFRG production. Over the next several years, he and his associates became master mould builders, specializing in custom moulds.
Danny pursued largely commercial work until 1992, when he founded RWM Inc. to focus more attention on custom residential interiors. He continues to serve as designer and president.
Most conceptual shop drawings still originate from Danny's old-school drafting table. He regularly amazes customers with his ability to interpret their wishes and make their project dreams a reality. He has designed hundreds of custom range hoods, fireplaces, ceiling domes, archways, and wall niches.
For an estimate, e-mail us or call toll free 1.855.RWM.ARTS (1-855-796-2787). Danny or another of our friendly staff would love to speak with you.
or call toll free
1.855.RWM.ARTS
(1-855-796-2787)
© Copyright 2017
All our GFRG products are made in the U.S.A. by skilled American craftsmen.

Purchase "free"
shipping items.
Contact Us
Toll Free Phone:
1.855.RWM.ARTS
(1.855.796.2787)
International:
+1.801.268.2400
We accept:



Click here to receive free periodic email updates on products & specials!
RWM Inc.
6419 South Cottonwood Street
Murray,
Utah 84107


Visit our workshop!
See a map.